Bio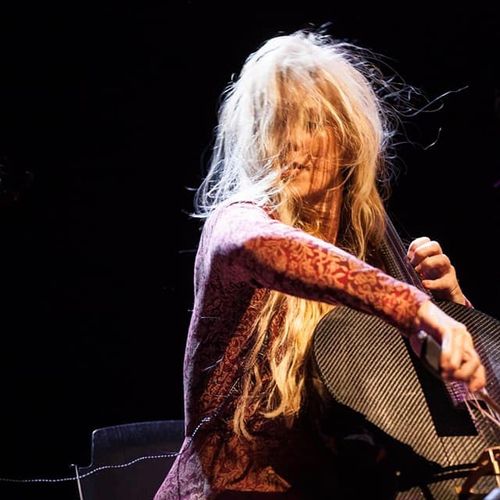 Caroline Lavelle is a British cellist, composer, and singer / songwriter. She has released three solo albums, collaborated with numerous international musicians, and is a member of the band Secret Sky.
Her career as a cello player started by chance: as a child, she'd been desperate to play the violin. On the day instruments were distributed, she was at the back of the queue. As luck would have it, when it was her turn, only a trombone and a cello were left. Choosing the latter, she went on to study at the prestigious Royal College of Music in London. After graduating, she opted out of the orchestral route, preferring to perform her own compositions. "The creativity involved in writing your own music and marrying lyrics and arrangements is my greatest love."
At the start of her career Caroline recorded with bands such as Siousxie And The Banshees and Fun Boy Three, and busked in London with her group Humoresque, together with Anne Stephenson and Gini Ball. 
Frankie Gavin and Alec Finn from De Dannan spotted her busking, leading to a stint with the band for several years. From this period onwards, Caroline worked with a wide variety of musicians (Radiohead, The Cranberries, Peter Gabriel, Nigel Kennedy, Indigo Girls, Ryuichi Sakamoto among others), and wrote with and provided vocals for artists such as Vangelis and Hector Zazou. Her vocal contribution to Massive Attack's song Home Of The Whale led to her work on the soundtrack to the Ewan McGregor, Ashley Judd film The Eye Of The Beholder.
It was Home Of The Whale that also brought her to the attention of William Orbit, who asked her to work on an album. The resulting album, Spirit, featured a mix of traditional songs and original material written by Caroline, featuring William Orbit's trademark production. It garnered critical and popular acclaim and The Times reported that it had inspired Madonna's Ray of Light album. 
In 2001 she released the self-produced Brilliant Midnight, an album focusing more on Caroline's skills as a songwriter and producer, organically blending her own classically inspired instrumentation with electronic arrangements. A year later, Caroline set up her own record label Ringing Tree Records, re-releasing Brilliant Midnight 2.0 in a revised edition, reflecting the vision she initially had for that album. 
A Distant Bell followed in 2004, and was met with positive reviews. The pastoral A Distant Bell could be described as Chamber Folk, and featured original material, traditional songs, and Caroline's musical settings of Brian Patten's poetry. 
Together with Justin Elswick (aka Sleepthief) and Israel Curtis she has released several tracks for a project entitled Spythriller. A full-length album is in the works. 
In 2015 Caroline formed the band Secret Sky with Brian Hughes and Hugh Marsh. Having met 20 years earlier in 1995, the three have been playing as a part of Loreena McKennitt's band ever since. Their self-titled debut album was released in 2016. The follow up Opium was released in April 2023.
In 2020, Lavelle started her Patreon page and it has become the focus point of her work, writing songs that appear both on Secret Sky's Opium and her new album The Raven to be released in July 2023, produced by John Reynolds (Sinead O'Connor, Indigo Girls, Damien Dempsey).